NetSoft Studio has worked with Microsoft® Corporation and their testing tools to verify BizWizard™ is compatible with and ready for Windows® 7 operating system. We are pleased to announce that the testing went well and BizWizard is one of the first software applications validated to be compatible with Windows 7, and Windows 2008 R2 operating systems.

In addition, BizWizard Maintains its support for legacy Microsoft Operating systems, Including Microsoft Windows XP SP2, Windows Vista, Windows Small Business Server, and Windows 2003 Server.

As part of NetSoft Studios continuing commitment to our clients and all of the Awards industry, we believe in supporting as many operating system versions as possible, as well as empowering our customers with the latest technology.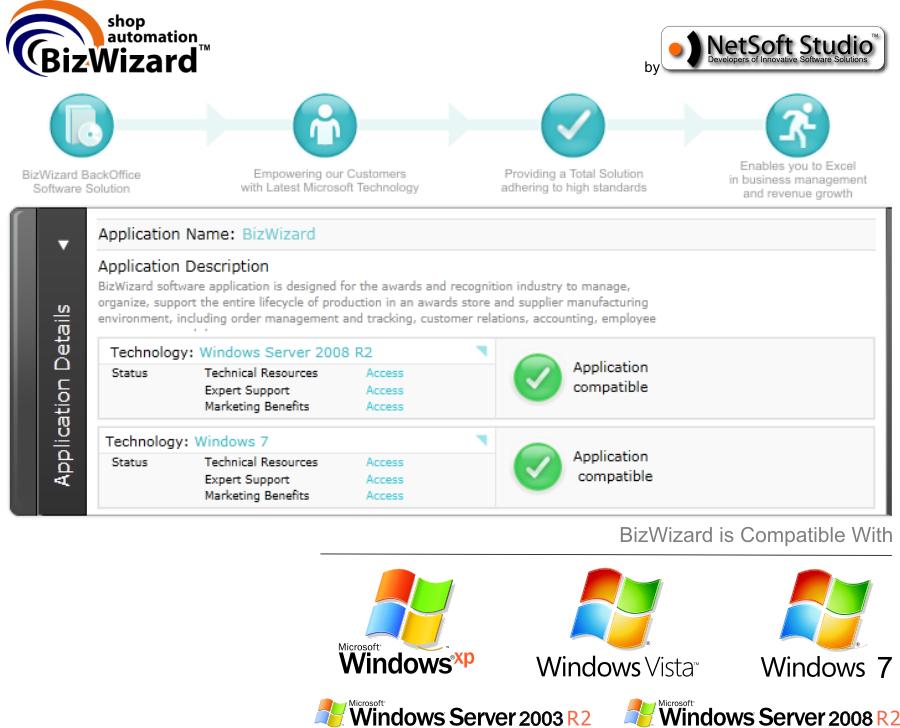 The Microsoft FrontRunner program was designed to give accolades to companies that ensured their software products were ready for Windows 7 and Windows Server 2008 R2 prior to the release of these operating systems. As part of the quality assurance program, Microsoft developed tools that allow software companies to pre-test their software solutions so that once the release of these two operating systems came out, customers would not have to worry about whether their software was compatible.
NetSoft Studio believes that being pro-active as new operating systems are released is important to the success of our customer base. Our commitment to our customers to ensure we are on top of technology is a very high priority for our company.